Sport…
Popular holiday recreation activities are walking, cycling, tennis, bird watching and wild flowers & orchids (best in May and June.
Bicycle rental is available at Prayssac.
Tennis courts are at Montcabrier, Puy l'Evêque and Prayssac.
Horse riding centres are at Bonaguil, Degagnac or Monclera.
Swimming lakes at Montcuq, Catus or Cazals. Swimming pool at Puy l'Evêque.
Canoe rental from Puy l'Evêque, Luzech, Douelle, Anglars Juillac.
River trips on the Lot at Fumel and Cahors.
Culture…
There are many delightful places to visit in the Lot, Dordogne and neighbouring departments, including:
Cahors, the Pont Valentré fortified bridge and old quarters
Figeac and the Champollion museum with a copy of the Rosetta stone
Rocamadour, cliff-hanging pilgrimage centre
Saint-Cirq-Lapopie, historic village overlooking the Lot river near Cahors
The chateaux of Biron and Bonaguil
Bastides (new towns of the middle ages) such as Monflanquin and Monpazier, with their arcaded squares
Les Arques ("From Here You Can't See Paris") and the Zadkine museum
Caves of Pech-Merle, Lascaux, Cougnac, etc.
Attractive villages nearby including Puy l'Evêque, Prayssac, Montcabrier, Duravel, St. Martin-le-Redon, Goujounac.
Food!
In July and August many villages organise evening markets with food and local produce to take away or eat there, and of course, wine! The Lot valley and hills produce the full-bodied red wine of Cahors as well as fresh fruity rosé and white wine. Visit a local vineyard for wine tasting and purchase.
Other gastronomic delights of the area are goose and duck products, especially foie gras, chestnuts, walnuts, prunes, (also the delicious liqueurs made from them), melons, cepes and truffles.
The summer visitor can sample regional produce in a convivial atmosphere at the many food & wine fairs or fêtes.
Some suggestions for more unusual excursions
Take a DISCOVERY FLIGHT – a 40 minute flight over the Lot Valley by air!
Departing from Lalbenque airfield, near Cahors, on board a light aircraft (class ULM) with a qualified instructor.
More details on the website www.airvolia.com
The dinosaur beach at Crayssac
Imagine the edge of a lagoon, 150 million years ago… where a small dinosaur called a pterosaur walked on the firm ground of a mudflat…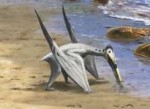 Today, you can see the footprints of this and other creatures, preserved in a protective building 2000 m2. Public visits by arrangement in July and August.
Tel : 05 65 20 86 40 / 05 65 53 20 65